Mapex T855 Breathable Stool, Blue NEW PRODUCT
£

139.00
In stock

Pay in 12, 24, 36 or 48 months. Learn more

Buy a Mapex T855 Breathable Stool in Blue from Graham Russell Drums. Next day delivery when you order before 2pm.
Read more
Return it for any reason.
Easy Returns Policy
Specifications
Delivery time:
Next Day Delivery - Mainland UK
Information
STAY GROUNDED. STAY COOL.
Mapex 800 Series Thrones are designed to be a solid foundation for any player. Rugged double-braced legs and threaded spindle construction provide ultra-reliable support and comfortable supportive seat features keeping any drummer feeling good through even the most intense playing. We are thrilled to introduce 2 New Models - T855BR & T855BL to the 800 Series Throne Line.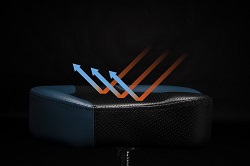 The newly developed Breathable Cloth Top Seat uses perforated cloth to allow air to circulate through and help drummers maintain coolness.
Specification:
• 17" x 4" Thick Saddle-Style Cushioned Seat
• Breathable Cloth Top with Brown Leatherette (T855BR) / Blue Leatherette (T855BL)
• Ultra-Secure Clamp Mount
• The 19" to 25" Threaded Steel Spindle Height Adjustment with Spindle Lock
• Double-Braced Tripod Legs
• Extra Large Slip-proof Feet